Shavuot 2023 at Congregation Shaare Emeth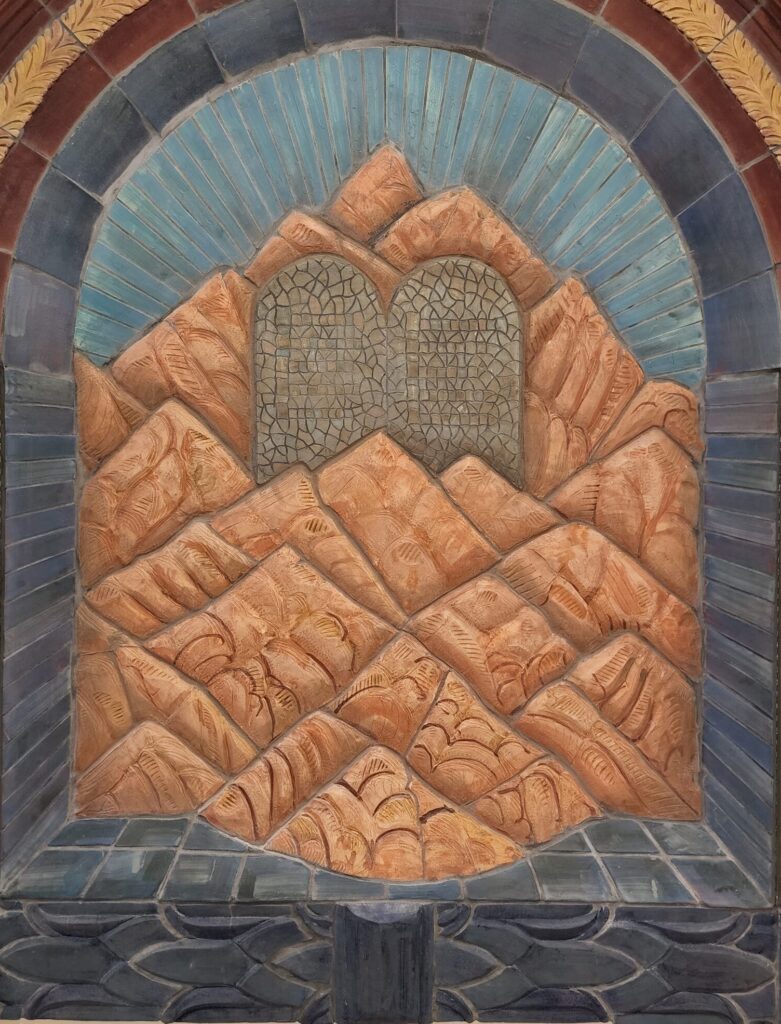 Reimagining Revelation: Shavuot 2023
Thursday, May 25 at 7 p.m. at Shaare Emeth
Shavuot, which takes place seven weeks after Passover, celebrates God's revelation at Mt. Sinai and the giving of the Ten Commandments. This year, the whole community is invited to join the Shaare Emeth clergy and Lucy Greenbaum, Musician-in-Residence, as we renew our commitments to Judaism with an evening of immersive learning and spiritual connection.
Schedule of Events:
7 p.m. Dessert reception featuring Israeli wines, fine cheeses, and delectable desserts.
7:30 p.m. Choose from a variety of learning experiences, see descriptions below.
8:30 p.m. Reimagining Revelation – a unique worship experience of poetry, prayer, and song.
Learning Session Choices:
The Torah of Justice with Rabbi Bennett
Join us as we mine the core teachings of Torah, the voice of the biblical Prophets and the wisdom of Jewish tradition for the values that inspire the impulse to seek justice in the world today.
Queering Ruth: How LGBTQ+ Jews Have Claimed Ruth & Naomi as Models of Queer Love with Rabbi Bearman
Tradition has called Ruth and Naomi close friends, besties, roommates, colleagues… anything but lovers. But what if our tradition got it wrong? Let's explore modern interpretations of Ruth and Naomi's relationship and imagine a world where these two women were bound by romantic love.


Torah in Bloom with Rabbi Levine


Legend says that when the Israelites received the Torah, God caused the mountain to bloom. We will explore the texts that inform the custom of decorating our homes and synagogues in greenery and flowers in honor of Shavuot, and everyone will have the chance to create their own personal decoration to bring this beautiful tradition home with you.
Shavuot Yizkor Service
Friday, May 26 at 9 a.m. in the B'nai El Chapel
Shavuot Sinai Stroll
Friday, May 26 at 3:30 p.m.
Longview Farm Park, 13525 Clayton Road, Town & Country
Join us for an afternoon park stroll to celebrate the Jewish festival of Shavuot. On Shavuot, we celebrate receiving the Torah and the journey the Israelites took to make their way to Mount Sinai. We will wander in the "wilderness" of Longview Farm Park, where we will soak up the beauty of nature and make our way to finding our own creative Torah. We might even meet an animal friend or two along the way. Once we wrap up our adventures, we will gather for another super important Shavuot tradition: eating dairy treats with our favorite ice cream bars to share!
This holiday celebration is best enjoyed by our friends ages 8 and under and their families, but there is room and ice cream for everyone!
May 24-27, 2023
Shavuot, literally translated as "weeks," is the date commemorating the giving of the Torah at Mount Sinai. It originally began a festival that marked the end of the spring barley harvest and the beginning of the summer wheat harvest, Additionally, Israelites brought crop offerings to the Temple in Jerusalem.
In modern times Shavuot is a celebration of Torah, education, dairy foods and actively choosing to participate in Jewish life. Many people stay up all night–or at least stay up late–studying Torah, often as part of community learning. These events are known as Tikkun Leil Shavuot, literally meaning "rectification for Shavuot night." It also is customary to eat dairy foods such as blintzes and cheesecake Shavuot, as Jewish tradition compares the words of Torah to the sweetness of milk and honey.
Learn more about Shavuot history, rituals, and customs, including dairy recipes, table decorations, and clips from Shalom Sesame by clicking here.